Long live the watermelon!
As you can see, the star of summer is the watermelon!

Synonymous with freshness and a sunny day, the watermelon is a strong ally to face the mercury on hot summer days. In slices, in a cocktail or in salads, it can be cooked in many ways.

We chose a few recipes to make the most of it!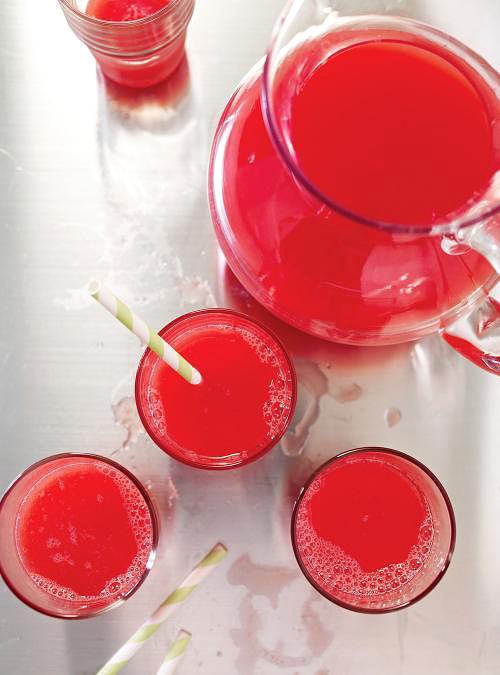 Lemonade with watermelon
Ingredients
500 ml (2 cups) water
250 ml (1 cup)
sugar
1.5 litres (6 cups) watermelon juice (To make 1.5 litres (6 cups) of watermelon juice, puree about 2 litres (8 cups) of seedless watermelon cubes in a blender.)
250 ml (1 cup) of lemon juice
Ice
1.In a saucepan, heat water and sugar, stirring until dissolved. Allow to temper. 2. In a pitcher, mix syrup with melon and lemon juice. Refrigerate until ready to serve. Serve with ice cubes. Garnish with slices of watermelon.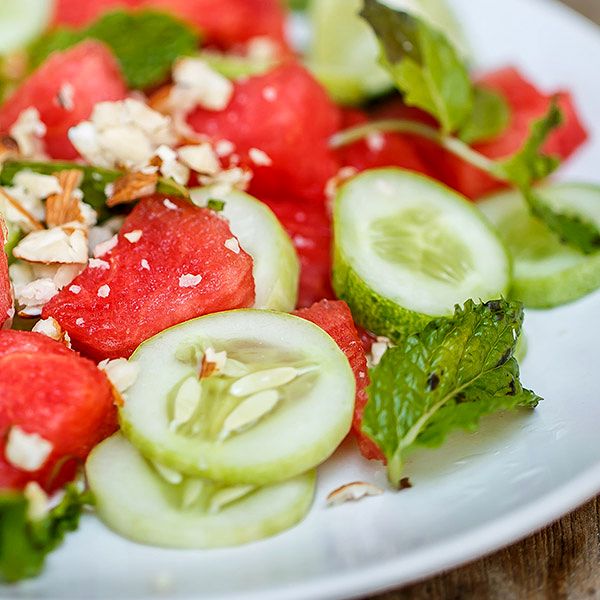 Moroccan salad with watermelon, mint, cucumbers and pistachios
The instructions:
The watermelon and cucumbers are diced and the red onion is thinly sliced. Place the ingredients in a large salad bowl. A dressing of olive oil, white wine vinegar and Moroccan-inspired spices such as cumin, cinnamon and ground coriander are poured. Garnish with mint leaves, fresh parsley and coarsely chopped pistachios. For an even more substantial dish, add couscous, cooked chickpeas or pieces of crispy pita.
The right advice:
To prevent the salad from being too liquid, add the watermelon at the very end, just before serving.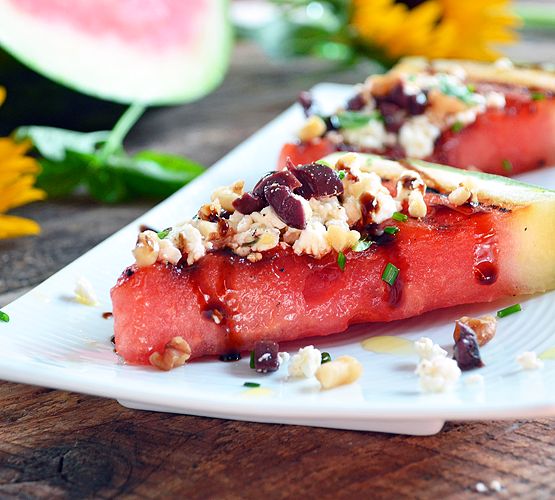 Sweet-Salted Grilled Watermelon
Ingredients
8 watermelon tips about 1 inch thick
Olive oil.
------------------------------
INGREDIENTS FOR GARNIR
1/2 cup crumbled feta cheese
1/4 cup Kalamata olives, pitted and coarsely chopped
1/4 cup coarsely chopped walnuts
-------------------
INGREDIENTS FOR SERVICE (TO TASTE)
Balsamic coulis.
Extra-virgin olive oil.
Chopped chives.
1.
Preheat barbecue to medium-high and lightly oil grill. Brush the watermelon tips with olive oil and grill for about 2 minutes on each side or until the flesh is clear.
2.
Spread the filling over the watermelon tips, drizzle with extra-virgin olive oil and balsamic coulis. Serve immediately sprinkled with chopped chives.